5 steps for the perfect product experience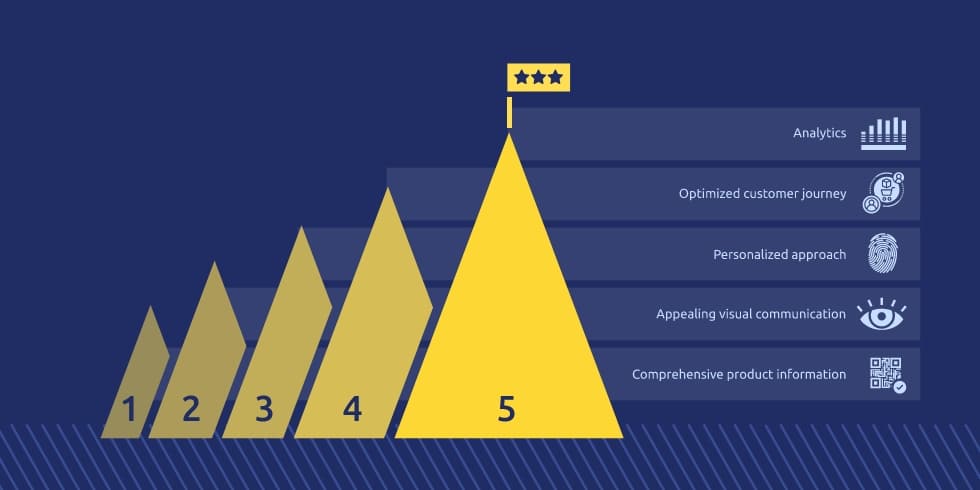 What defines compelling product communication? Is it the marketing copy? The product images? Videos? Regardless of which element attracts attention first, the principle is that product messages must be both informative and visually attractive to increase conversion rates. Because even if consumers are drawn to a particular product image, they won't decide to buy if the product information is incomplete, the appeal doesn't fit, or the buying process up to checkout involves too many intermediate steps or even media breaks and inconsistent communication.
Optimized product communication offers many benefits:
Building trust and credibility
In this blog article, we'll look at the 5 essential steps to a perfect product experience.
1. Comprehensive product information
First and foremost, a purchase decision requires complete and correct product information. The amount of relevant product data is growing – this is due to the market's greater need for transparency as well as the different channel requirements that must be taken into account when creating and managing product information. A product is advertised differently in the online store than on Instagram – adapted marketing texts and relevant data must be stored accordingly and the delivery must be controllable.
PIM systems offer the ideal basis for mapping this level of complexity and additionally covering topics such as multilingualism and contexts that transpose communication to multiple target markets.
2. Appealing visual communication
Before consumers take a closer look at a product, they first need to be made aware of it. Today, this rarely works with pure product information or marketing texts. Thanks to visual online platforms such as Pinterest and Instagram, the relevance of product images and videos has increased enormously in recent years. This has even gone so far that brands are creating a whole range of digital content for a single product, especially in industries such as fashion or electronics.
DAM systems not only enable the central management and provision of digital content, but also offer real added value for marketing and creative teams with intelligent functions such as the automated creation of derivatives.
3. Personalized approach
Targeted communication supports the effectiveness of product messages, as it strengthens consumers' identification with the respective brand and/or product and can therefore have a positive influence on the purchase decision process. This requires a certain variance of product content – product information as well as marketing texts and product images should be able to be distributed contextually, depending on the output channel, advertising campaign or target group.
In addition to comprehensive product content management, which includes the two components PIM and DAM, a channel management system is also required to enable communication managers to address all output channels and target markets effectively.
4. Optimierte Customer Journey
Ultimately, the aim is to continuously optimize all elements of the customer journey. This includes the product content itself as well as the individual process steps of a purchase decision. Each of these process steps carries the risk of bouncing, meaning that minimizing the number of steps up to the checkout must be considered. At the same time, it is important that product communication is consistent in each of these process steps and keeps consumers engaged.
It requires perfect control of all touchpoints, the delivery of optimal product content at each of these interaction points, and continuous monitoring of user behavior at these individual points in the customer journey – which brings us to the final step of the perfect product experience:
5. Analytics 
Analytics tools measure every customer interaction with product content delivered to touchpoints like the online store or social media. This allows marketing teams to learn which actions generate the most positive responses and adjust their product content according to these insights. In this way, product experiences can be continuously optimized in every channel and for every target group, leading to more conversion, sales, and brand awareness in the long term.
The bottom line: It takes more than just product data to create the perfect product experience.
The creation of product experience depends on complex factors that are meaningfully intertwined and must be continuously optimized and controlled. Product content management with the elements PIM and DAM provides the basis – but product messages can only be controlled with comprehensive channel management and a sustainable communication strategy.
Manifest: One-Stop Product Content Experience
With One-stop Product Content Experience we help our customers shape their individual future in the market in a sustainable and secure way.
Wij geloven in de waarde van samenwerking en uitwisseling. Dit geldt zowel de projecten met onze klanten, waaruit we veel waardevolle inzichten genereren voor onze productontwikkeling, als voor ons groeiende partnernetwerk, waarmee we onze klanten ondersteunen bij hun digitalisering.