5 steps for perfect product content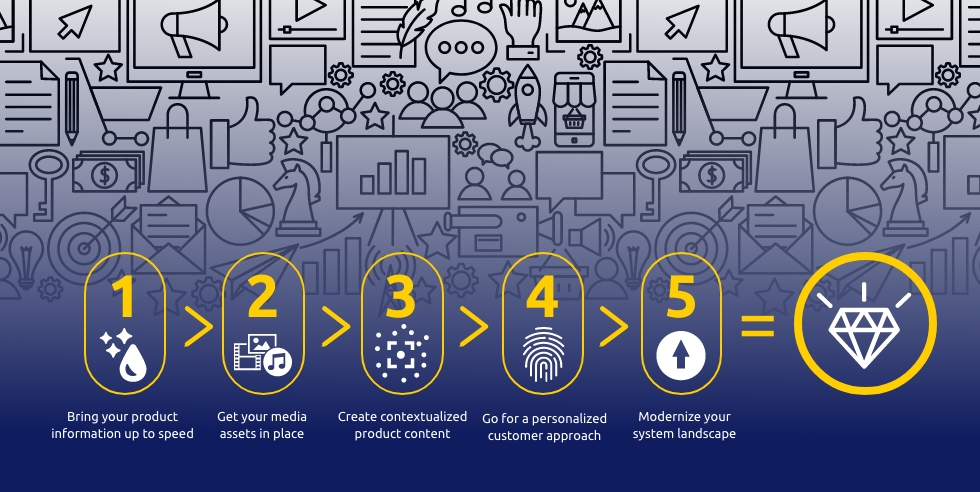 Online commerce holds great potential, but also brings a number of challenges when it comes to product communication. For example, e-commerce companies must be able to deliver product content along dynamic customer journeys in order to guide online shoppers through the plethora of offers to make a purchase decision. The content must therefore be optimally designed at every touchpoint. Find out what defines optimal product content and how you can successfully position your company for the challenges of e-commerce by following these five steps in this blog article.
1. Bring your product information up to speed
In online retailing, products simply can't be seen in the same way as in a retail store. Online shoppers are therefore completely dependent on the product information provided. If this information is inadequate or deficient in any way, online shoppers quickly turn their backs on the product and the associated brand. After all, there are countless other suppliers and offers online, so there is no need to compromise when making a purchase decision.
For your path to becoming a successful e-commerce company, this means that you need to thoroughly test your product information, which includes both basic product data and editorially prepared product descriptions. Your product information is at its best when it is up-to-date, comprehensive, and also consistent across all touchpoints. To achieve this quality and maintain it over the long term, an inventory is essential. So start by identifying your data sources and describing the most important processes, roles, and responsibilities.
2. Get your media assets in place
Media content plays a very special role in product communication in online retail. They are primarily required for consumers to get an idea of a product before they buy it. On highly frequented online marketplaces such as Amazon or in social media, where users are literally flooded with content, media content also serves the purpose of drawing attention to the company's own brand and its own offerings.
The use of media content is therefore essential in online retail – and the importance of such content should not be underestimated. While photo collages, 3D images or product videos are needed to present the products for sale in all aspects, content that generates interest and impressive emotions is needed as well. What this means for your company is the need to have the widest possible range of media content in different versions and formats up your sleeve, which you can then use to optimally cater to a wide variety of channels and target groups.
Successful product communication therefore requires both comprehensive product information and clear and effective media content. These individual elements then need to be combined to form product content, which is delivered to the individual channels enriched with marketing texts. Contextualization is the keyword when it comes to optimizing product content.
3. Create contextualized product content
Contextualization involves adapting the content, style, and form of the product content to the respective touchpoint and the target group it serves. For instance, different conventions and communication rules apply on social media than in a company's own online store, and different requirements must be met in B2C compared to B2B. In addition, localization aspects must also be taken into account in online commerce, which not only affect the language and various units of measurement, but also laws and cultural norms.
4. Go for a personalized customer approach
Product content achieves a special effect when it is not just tailored to entire target groups, but also to individuals. In addition to aligning the content with the needs and desires of the customers, this is primarily a matter of addressing them personally. It also makes sense to provide recommendations based on previous purchases or activities. However, the latter requires various analytics tools as well as a functioning customer relation management.
All these aspects make product communication in e-commerce a demanding and resource-intensive matter – especially when many work stages have to be handled manually. For decision-makers, this means starting with the system landscape for optimal product content. Software solutions designed for the management and control of product and communication-relevant data and processes help to get away from cluttered Excel lists and inefficient folder structures to successfully and efficiently manage product communication.
5. Modernize your system landscape
The challenges in online retailing require a system landscape that is capable of mapping and closely linking the product and communication-relevant disciplines in the company with all their data streams and processes. Product Information Management (PIM), Digital Asset Management (DAM) and Channel Management (CM) are particularly relevant here.
PIM for efficient management of product information:
PIM systems serve companies as a single source of truth and keep their product information granular as well as individual communication elements, while the data model determines the creation and linking of products, information and elements in the system. This allows product data to be maintained centrally for all channels and contexts of use and enriched into product descriptions or marketing texts in just a few steps.
DAM for seamless media content delivery:
DAM systems are designed to archive large volumes of digital assets transparently and in a media-neutral manner, using metadata. In this way, content from an organization's asset inventory can be accessed selectively, edited immediately, and monetized repeatedly. In addition, DAM systems support internal and external collaborations by acting as a data hub and assigning specific roles and rights.
CM for successful omnichannel publishing:
With a CM system, you can map all your communication channels in a single system and have your product content distributed in an automated and syndicated manner. Not only do CM systems help minimize time-to-market, they also ensure brand consistency across all touchpoints. In addition, they form the systemic basis of omnichannel publishing, in which the consumer is led to the purchase decision in a continuous process.
When equipping their system landscape, many companies tend to look for solutions for specific product and communication-related areas instead of taking a holistic approach towards the issue. The result is a collection of isolated systems that have to be operated and maintained separately, inevitably leading to breaks in the work and data processes. Instead, in order to master the challenges of e-commerce, a complete solution is needed for product communication – and consequently for product content management.
Have you heard of mediacockpit?
mediacockpit is the product content management solution from Bertsch Innovation that combines the disciplines of PIM, DAM and CM under one roof and allows Marketing, Sales and Product Management to manage and control individual product data, derivatives and output-ready product content seamlessly. Thanks to an integrated syndication function, you can use mediacockpit to deliver content to your communication channels in real time and ensure the best possible experiences along the customer journey at all times.
Nous croyons en la valeur de la collaboration et de l'échange. Cela s'applique aussi bien à nos projets clients, desquels nous tirons de nombreuses informations précieuses pour le développement de nos produits, et à notre réseau de partenaires en pleine expansion, avec lequel nous soutenons nos clients dans leur numérisation.