How to deliver One-Stop Product Content Experience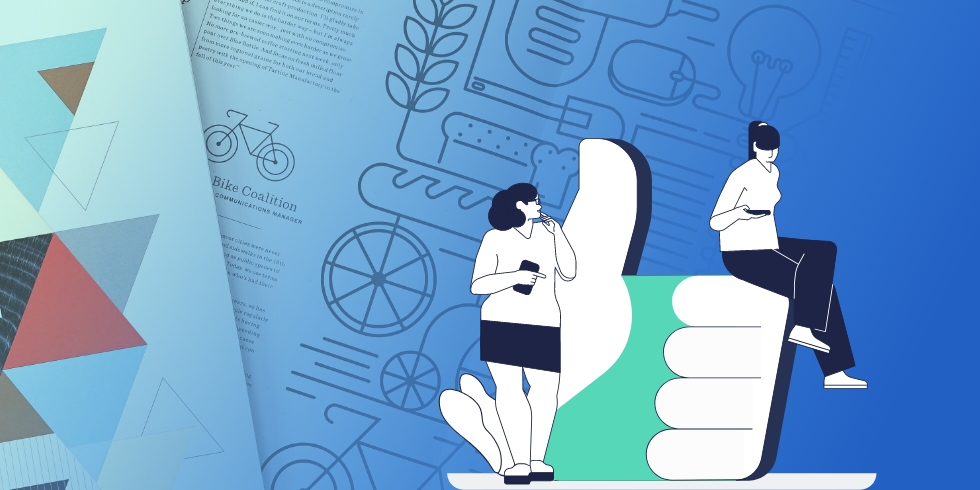 Companies are confronted with the challenge of leading consumers along branched and dynamic customer journeys to the purchase decision. Consequently, product communication is becoming so complex that it is almost impossible to manage it efficiently by manual means. More and more companies are therefore turning to software solutions to help them create and distribute their product content. However, when equipping their system landscape, many organizations tend to focus on solutions for specific product- and communication-related areas instead of taking a holistic approach to product content management. The result is a collection of isolated systems that must be operated and maintained separately, causing inevitable breaks in work flows and data processes. Despite systemic support, the delivery of product experiences takes up an inordinate amount of resources.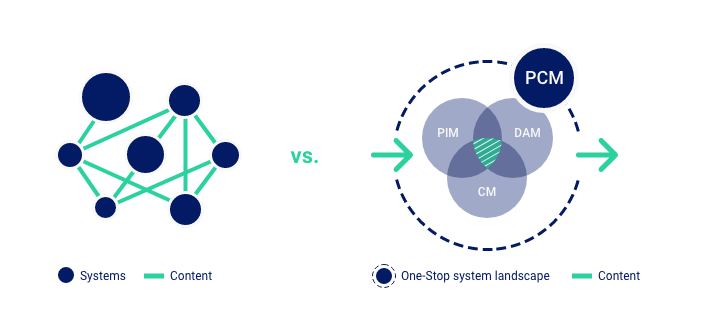 With this guide, we have addressed the challenge of describing a system landscape that meets today's requirements and enables companies to reach consumers in real time across multiple channels and ultimately convert them into loyal customers with a one-stop product content experience.
The components of a modern system landscape
Contemporary product communication requires software solutions that effectively support the work and data processes along the product content lifecycle. These solutions include, first and foremost, PIM, DAM and CM systems.
PIM – A golden record of product information
Product information is the foundation of any product communication, making the quality of the data it supports central. Poor or even contradictory information at individual touchpoints quickly makes your company look unprofessional and can drive consumers straight into the hands of the competition, often just a few clicks away. On the other hand, comprehensive, consistent, and contextually appropriate information can enable smooth shopping experiences for your customers, increasing your conversion rate.
A PIM system which centralizes product data management and maintenance allows you to ensure that the desired quality can be achieved with minimal resources and preserved in all contexts. For this purpose, a PIM system keeps the product data standardized and structured and provides a golden record of freely combinable communication elements that can be aggregated and enriched by your employees to form rich product content (such as product descriptions, product features, instructions for use or marketing texts).
DAM – for an immediate use of media content
Media content is another essential component of successful product communication. After all, mere text, regardless of how well formulated and edited it may be, does not create an emotional response in the consumer – and would simply get lost in the mass of offers and marketing campaigns. The targeted distribution of media content is a challenge for many companies, especially when the individual files are managed in folder structures and have to be manually formatted for the different areas of use.
A DAM system, the hub for media content creation and management, can make your marketers' day-to-day work easier while safeguarding and maximizing your ROI. To do this, the system holds the image, audio, or video files in a media-neutral way and enables tagging of individual assets or entire structures so that the files can be easily retrieved and immediately combined with the communication elements from the PIM to form an effective entity.
CM – for omnichannel publishing
After all, creating effective product content is only half the battle. Product content only creates added value when it is made available at the individual touchpoints. The goal is not to address these touchpoints in isolation, but rather as a unit in the sense of omnichannel marketing, allowing the customer to be bound to the brand in a continuous process and to be led to the purchase decision. This is why a modern system landscape should always include a channel management solution.
A CM solution allows you to bundle all your systems used for content creation, as well as all marketing and sales channels available to your company, into one system and have your product and brand messages delivered automatically and channel-specifically. As a result, CM systems not only help minimize time-to-market, but also ensure the quality and consistency of the brand experience.
When equipping your system landscape, you should make sure that all your systems are seamlessly integrated, as this is the only way that product content can be efficiently created, contextualized, and delivered in real time. Software manufacturers have also recognized this necessity in recent years and have consequently developed systemic overall solutions for product content management, i.e. for the creation, administration, maintenance and distribution of product content.
What should I look for in an overall solution for product content management?
An efficient overall solution for product content management is characterized primarily by the fact that it not only links the product and communication-relevant systems (such as PIM, DAM, and CM) with each other, but also unites them under one user interface. Another important feature is the ability of the data model to map not only the product data structure but also all other important domains such as customer and location data in order to enable a targeted and personalized customer approach.
5 steps to a one-stop product content experience
This covers the basics – but what does this mean in concrete terms for companies that want to effectively address their customer journey? In the following, we have listed the 5 most important steps to implement a one-stop product content experience: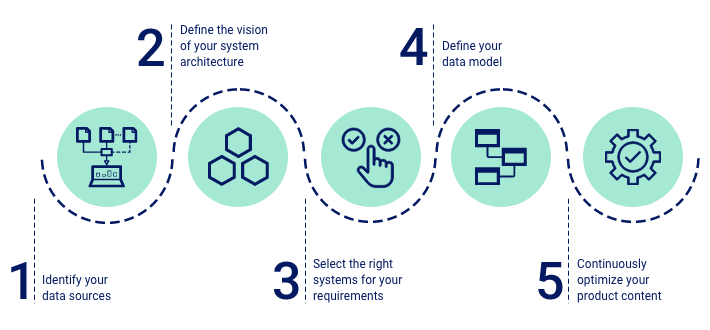 1. Identify your data sources
Companies in the early stages of their digital transformation often face the problem that their basic corporate data is scattered throughout the organization in different folders, systems and departments. The first step is to conduct an inventory and localize and describe the most important data, processes, roles and responsibilities.
2. Define the vision of your system architecture
When outlining your target definition, make sure that all essential data such as product data, customer data or media content must be centrally stored, managed and made available for further use in best-of-breed solutions to ensure efficient processes.
3. Select the right systems for your requirements
Evaluating the right systems is not an easy task – dozens of providers exist on the market and the difficulty lies in finding the right solutions for your own, sometimes very individual, requirements. This is where market experts such as consultants or analysts, who know the current provider market inside out, can provide support.
4. Define your data model
Once the appropriate systems have been identified, the next step is to define the data model. Get support from the software provider or integrator, who will also assist you with the implementation of the software. The data model provides the basis for the subsequent networking and future viability of your deployed solution and must therefore cover current as well as future requirements as accurately as possible.
5. Continuously optimize your product content
With every interaction and every campaign, you'll learn more about your target audience and tailor your product content accordingly. You'll get closer and closer to potential as well as existing customers' expectations and deliver personalized product content that delivers optimal experiences across all touchpoints.
Bertsch Innovation has designed a comprehensive solution for product content management with mediacockpit. mediacockpit is characterized by a system architecture that combines the disciplines of PIM, DAM and CM under one roof and enables the delivery of product experiences in real time with an integrated syndication function. A generic data model also enables mediacockpit users to make adjustments and enhancements to their system landscape and to position themselves for future product communication requirements.
We believe in the value of collaboration and exchange. This applies both to our customer projects, from which we generate many valuable insights for our product development, and to our growing partner network, with an extensive range of which we support our customers in their digitization.