New PIM Report 2023 from The Group of Analysts (TGOA) identifies Bertsch Innovation as a key market player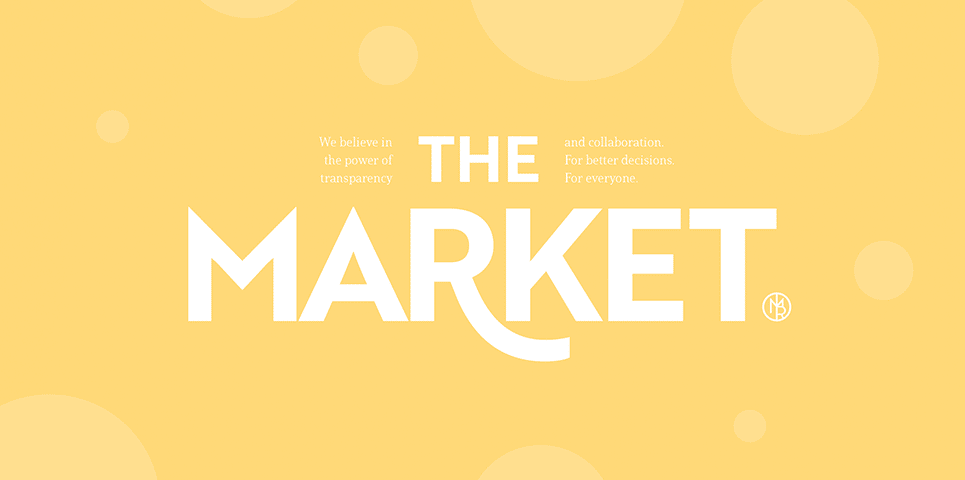 The Group of Analysts has published its new PIM Market, which, in addition to a comprehensive market review, identifies a total of 40 vendors that play an important role in the DACH region – including Bertsch Innovation.
The complete report is available for download here
The PIM market is growing
The analysts at The Group of Analysts expect the global PIM market to grow to a total of USD 63.8 billion by 2030, which corresponds to an average growth rate of 21.09 percent per year. In this regard, the total volume is considered in each case, i.e. both the software solutions themselves and the services in Product Information Management.
The analyst firm cites the growing importance of e-commerce, Big Data and analytics for a data-driven corporate strategy, sustainability issues, the need to optimize efficiency in organizations, and lower barriers to entry and change due to an increasing number of SaaS offerings in the market as the most important growth factors.
Growing pressure from different sectors combined with an increasingly easy to realize ROI – it is no wonder why it is not only The Group of Analysts but also many other market analysts around the world that predict a considerable market growth.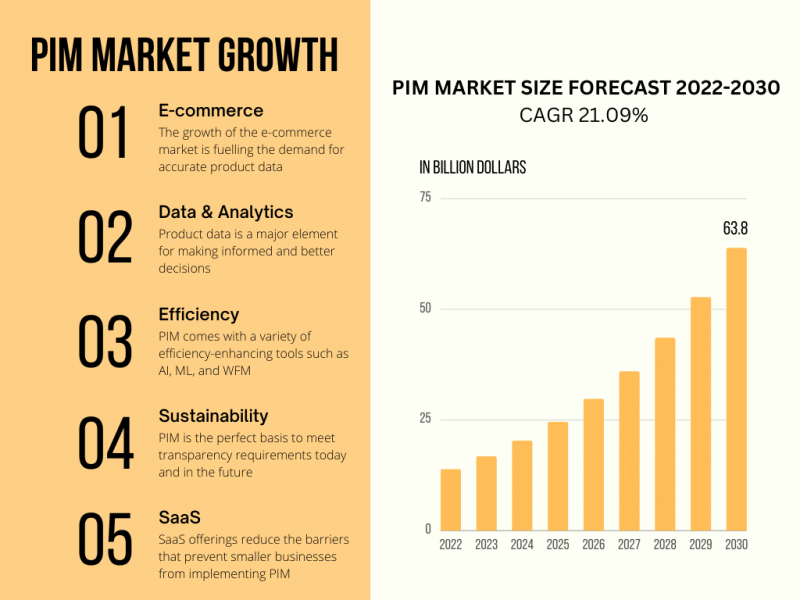 Diversified supplier landscape
The consequence: Hardly any company today is still asking itself whether they need a PIM system. The question is rather: which approach is suitable for me? The vendor market is correspondingly diversified today. The same applies to the geographic strategy of the providers. While a few follow a global growth strategy, most listed providers focus on localized markets such as Europe or DACH.
Another differentiating feature is the technological focus. Some vendors focus exclusively on PIM with their solution, while others cover the entire product content life cycle. And yet others follow the approach of offering PIM and DAM in a comprehensive solution for product content management – such as Bertsch Innovation with mediacockpit, which combines the two components in one and the same system.
In addition to these fundamental decisions, the analyst firm sees a number of other factors according to which providers differ greatly from one another. One of these factors, to which The Group of Analysts sees growing importance, is the partner network. "Partnerships with complementary technology vendors are a massively underestimated success factor in the current PIM market," says Temel Kahyaoglu, principal analyst and founder of The Group of Analysts.
The analysts also see weaknesses in the vendors' marketing and communication strengths. Especially when it comes to taking a stand as a technology provider on contemporary thought leadership and innovation topics, The Group of Analysts sees clear potential for optimization. Bertsch Innovation is proud to have been named as one of the ten most successful providers in the listing in this respect.
"For us as a software provider, it is very important to give our customers orientation and to classify all these new topic areas for them and also to position ourselves ", says Johannes Kowalski, Head of Marketing at Bertsch Innovation, "so we have to observe every trend very closely – including those from adjacent software areas such as CRM or digital commerce – and comment on them from our perspective."
The positioning of Bertsch Innovation
This customer focus has also played a key role in Bertsch Innovation receiving top scores for Customer Experience and Technology in The Group of Analysts' Market Performance Wheel (MPW) assessment. Chris Turchin, CTO at Bertsch Innovation says, "At Bertsch Innovation, the constant optimization and enhancement of our software products is always done with an eye towards the future and both ears to our customers."
 Download the full MPW document here .
About mediacockpit
mediacockpit is Bertsch Innovation's product content management solution that combines state-of-the-art product information management with digital asset management and channel management in an intuitive and particularly user-friendly interface, forming the basis for optimal and flexible product communication.
About The Group of Analysts
The Group of Analysts is an analyst firm focused on the enterprise software market. With this in mind, the company offers its Market Performance Wheel, a detailed analysis tool for providers of the most important software markets in the information supply chain. In addition to comprehensive consulting services for companies in all industries and support in evaluation processes, The Group of Analysts offers high-quality research content as well as various publication series with the goal of creating transparency in the market.
We believe in the value of collaboration and exchange. This applies both to our customer projects, from which we generate many valuable insights for our product development, and to our growing partner network, with an extensive range of which we support our customers in their digitization.